There are two kinds of beaches in Phuket: Beaches where people book their hotel and beaches where people spend the day.
Beaches where people book their hotel: Most people like to book their hotel in Patong,Kata,Karon,Kamala and Bangtao beach for convenience. These beaches do have a lot of restaurants, shops and of course nightlife but on the downside, they tend to be busy or even crowded.
Beaches where people only spend the day:These beaches usually have very little or no accommodation at all but are great to spend the day for the quality of their sand and water and a relative peacefulness. Best known are Nai harn,Freedom,Paradise and Surin beach
Freedom Beach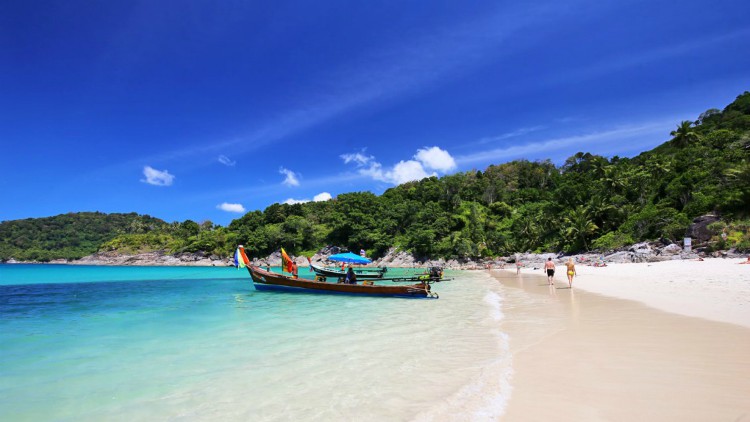 Freedom Beach is an exclusive gem on Phuket's west coast; the 300m-long strip of white sand is set in a superb bay dotted with granite rocks and surrounded by hills covered by thick and luxuriant jungle. Essentially, Freedom Beach's exclusivity comes from its rather difficult accessibility, although things are getting a bit better nowadays. Freedom Beach is an anomaly, one of the prettiest beach on Phuket island, with an incredibly soft white sand and clear blue waters.
 How to Get to Freedom Beach
Freedom Beach is only accessible by longtail boat, and only during high season, which usually is from December to June.The shortest route is from the southern end of Patong Beach near the big bridge at Amari Phuket, but you could also get a from Kata, Karon or even Kamala Beach. It would just cost you more and take longer, longtail boats are not known to be very fast. From Patong Beach the price can vary according the pilot's mood, usually 1,200 to 1,500 baht per boat for a round trip, decreasing according to the number of passengers, payable on the return trip.
Kata Beach
Kata Beach is the most popular beach in Phuket after Patong. It is an excellent choice as it also enjoys a wide white sandy beach with an incredible blue sea during high season. Kata is less crowded than Patong and offers a large selection of dining, shopping, hotels, plus a decent nightlife!
Patong Beach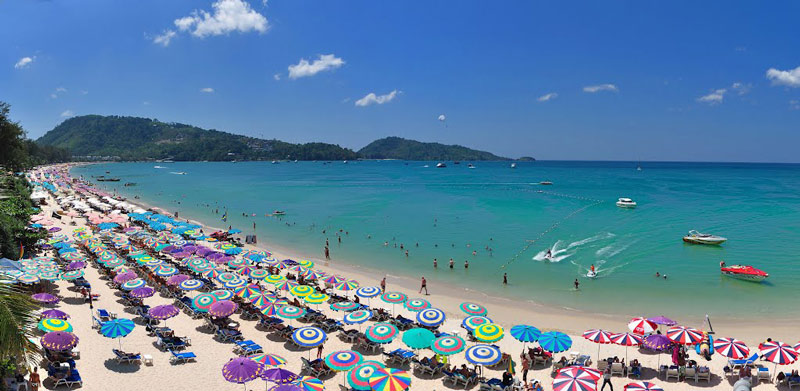 Patong Beach is beating heart of Phuket Island and what makes it irresistible to some, is often what other people complain about. It's big, bold, crowded, bright and loud.but No list of the best beaches in Phuket could be complete without mentioning Patong. Undoubtedly the most popular stretch of coastline on the island, it could be said to be a victim of its own popularity, being generally busy right along its 2.5 km length. However, there is no part of Phuket with a livelier atmosphere. The town behind the beach is home to many great restaurants and hotels, as well as the best of Phuket's nightlife, while the beach itself has nice sand and plenty of attractions and activities
 Karon Beach
Karon Beach, the second longest beach in Phuket, with a very long and wide stretch of white sand with pleasant dining and nightlife. The sea here is very approachable, though it is noted for its strong riptides. There are virtually no rocks along the length of the beach, so you can take a cooling dip with no risk of hurting your feet
Nai Harn Beach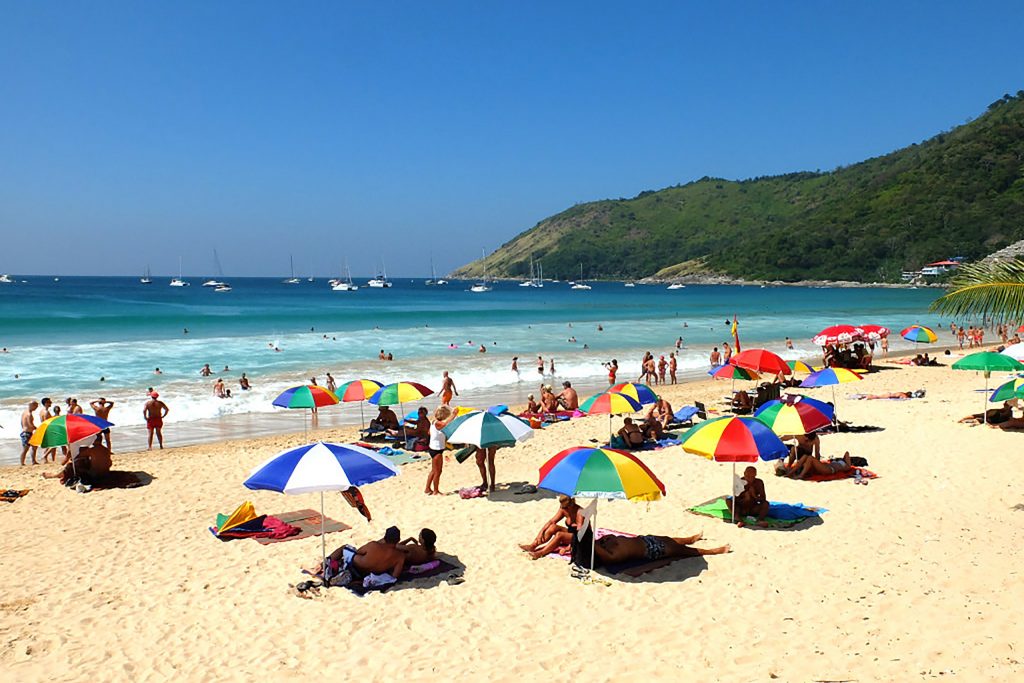 Nai Harn is a lovely beach surrounded by green hills and islands, very different from the typical west coast touristy spots. It may be changing with just a handful of hotels but still holds on to its local feel. The beach is in a sheltered bay where sailing and fishing boats anchor in calm waters.
Kata Noi Beach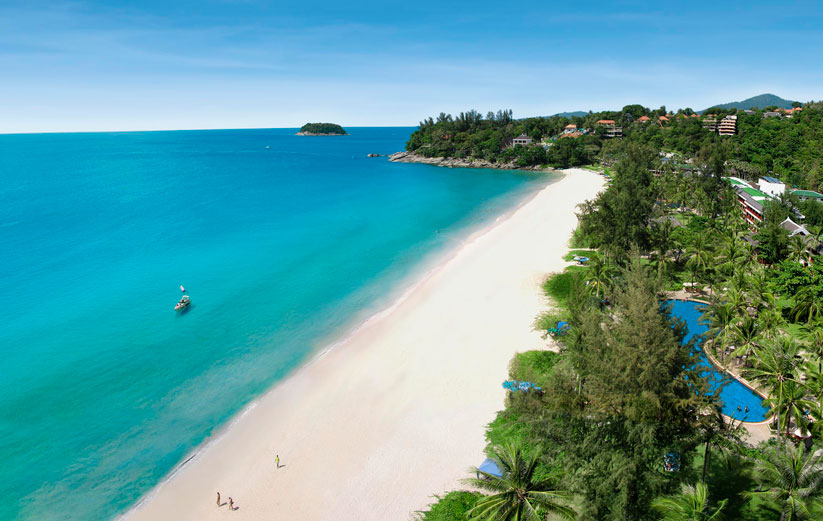 Kata Noi is just under 700m long, but is an amazingly beautiful spot. The sand there is among the finest, the sea among the nicest and the surrounding restaurants among the finest in Phuket. There are only a couple of hotels along its length, but they too are rated among the best available. A much quieter place than its big brother to the north, it has a more peaceful and relaxed atmosphere while still offering the same great surfing and snorkeling opportunities.
Ya Nui Beach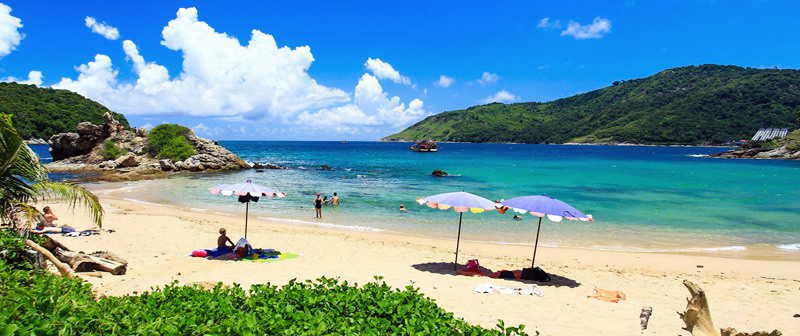 Ya Nui is tiny but has the charms of a small beach, tucked in a cove between the Windmill Viewpoint and famous Promthep Cape in the very south of Phuket Island. It looks like a secret beach, but it is not, and a lot of people come to enjoy it, especially for snorkeling and even beach diving. It's just easy to miss it if it was not for the number of cars parked along the road
Paradise Beach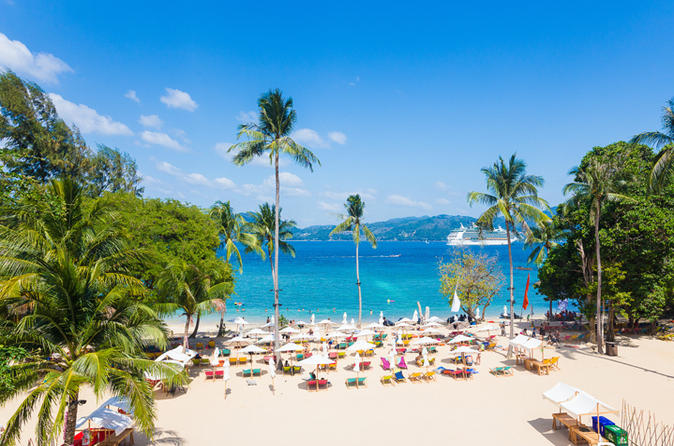 Paradise Beach sounds good. With such name, people expect to discover another 'beautiful-secret-hard-to-find-beach' located near Patong. And yes, to its credit, the sea is very blue, sand is powdery and cute little boats are gently bobbing in the bay.The little cove has a great choice of facilities, including restaurants, bars, sea kayaks, beach chairs and more.