Railay Beaches & Caves
Railay Beach is, in fact, a small peninsula which counts four beaches. Now on every savvy traveller's list, Railay is nevertheless one of Thailand's most sought-after beach areas. Just south of Ao Nang Beach, around a rocky headland and accessible only by boat, Railay presents a tranquil and extraordinary world. In just one small peninsula you'll find gorgeous white sand beaches, soaring limestone cliffs, viewpoints, caves and a lagoon hidden inside the cliffs, shaped and fed by the changing tides. All within walking distance! At Railay there are no roads; only footpaths. No buses, no cars, just longtail boats. Although it's actually connected to the mainland, the spectacular Phra Nang Peninsular is effectively cut off from the rest of Krabi by limestone headlands and steep jungle valleys; the only access is by sea. The very picture of tropical paradise, with no roads and no hassle, Railay offers lazy days, adventure forays and chilled-out evenings.
Koh Poda
Koh Poda is one the most popular islands in Krabi archipelago. Located just six kilometres offshore from Ao Nang, it roughly takes 25 minutes to get there by long-tail boat. The price for a return ticket is about 300 baht per person; note that if you travel alone, you will have to wait for the long-tail boat to be full according to its capacity before you set off. Mu Koh Poda or Poda Island group consists of four islands: Koh Poda, Koh Kai, Koh Tap and Koh Mor. Koh Poda is the largest of the group despite its area being no more than a kilometre in diameter. Covered with palm and pine trees and almost entirely encircled by a soft white sand beach, it is every inch the stunning tropical getaway. A coral reef lies about 20 metres from the beach with a variety of sea life. The irresistible combination of excellent snorkelling, scenery and soft sand make the island a popular choice with snorkelers and sea kayakers, but surprisingly, it's not that crowded.
Koh Hong
Koh Hong is a get away island on the Krabi coastline. Spend your day doing nothing but lazing on virgin sands. This wonderful group of tiny islands offers breathtaking scenery, soft white-sand beaches, coral reefs and a beautiful lagoon. It's where you can enjoy swimming, kayaking, snorkeling, scuba diving, fishing, sunbathing, hiking, and picnicking. Koh Hong is part if Than Bok Khorani National Park and it's only open for day visits with no overnight stays allowed.
Phi Phi Islands
The Phi Phi islands are some of the loveliest in Southeast Asia. Just a 45-minute speedboat trip or a 90-minute ferryboat ride from either Phuket or Krabi, these picture postcard islands offer the ultimate tropical getaway. Featuring classic tropical beaches, stunning rock formations and vivid turquoise waters teeming with colourful marine life, it is paradise perfected. Phi Phi is a group of six islands. The two main islands are Phi Phi Don and Phi Phi Leh. The larger and inhabited Phi Phi Don attracts hundreds of visitors to stay on its lovely shores while the smaller uninhabited Phi Phi Leh hosts stunningly beautiful bays and beaches, including the world-famous Maya Bay, which was the set where The Beach (with Leonardo Di Caprio) was filmed.
Chicken Island
Koh Kai (sometimes spelled Koh Gai or Koh Khai and meaning 'Chicken Island' in Thai), is also called Koh Hua Khawan or Koh Poda Nok. It is a small island belonging to the Poda group of islands located about eight kilometres from Ao Nang in the province of Krabi. Koh Kai takes its name from the chicken-shaped rock forming its southern tip. Most island-hopping tours from Krabi and Phuket make a short stop at this picturesque limestone chicken, giving visitors a cool photo opportunity also has several beautiful reefs at the west of the island which are great for snorkeling.
Koh Rok & Koh Ha
Koh Rok Well known for its powdery white sands, crystal clear waters, abundance of colourful marine life and still only a small number of tourists visiting at any one time. Relax, unwind on Rok Island and snorkel directly on the beachfront or venture further out and to different points of the island on the boat, Koh Rok has something for everybody. 
Koh Ha Normally only visited by scuba divers is now available for snorkeling and is by far and wide the best possible location to snorkel. Each and every part of the spectacular island is surreal paradise. The marine life here is largely untouched by snorkelers and like Koh Rok has crystal clear waters, white powdery sands and many species of marine life.
Koh Tup & Koh Mor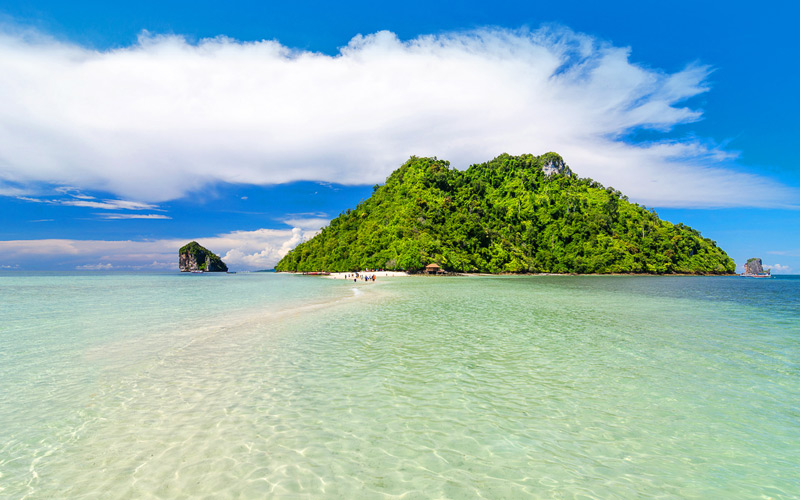 Koh Tap (also spelled Koh Tup, Koh Tub or Koh Thap) and Koh Mor are two tiny islands that belong to the Mu Koh Poda group. Located approximately nine kilometres from Ao Nang, it takes about 30 minutes to reach them by long-tail boat from the prime resort towns in Krabi Province. These two islets are linked by a sandbar which, at low tide, also enables you to walk to Koh Kai (Chicken Island), situated some 500m away. The popularity of Koh Tap and Koh Mor is due to their specific shape, as both sides of the sand bar offer great snorkelling in crystal clear waters. This sandbar is called 'talay waek' in Thai, which means 'divided sea'. A short hike to Koh Tap's summit offers a cool viewpoint to the other islands around. The best way to get to these islands is to join the Krabi Four-Island tour by speedboat (or any similar excursion). Alternatively, if you just want to go there to spend the day, you could pack a lunch, and simply take a long-tail boat from Ao Nang, Railay, Klong Muang or Nopparat Thara. It will cost you about 300 baht per person to get there from Ao Nang. Note that you will have to wait for the boat to have at least eight passengers before setting off.
The Emerald Pool
Krabi Emerald Pool (Sa Morakot) is a unique attraction in southern Thailand. Krabi is well-known for areas of outstanding natural beauty and one place that should make your must-see list is the Emerald Pool in the Thung Teao Forest Natural Park, an unusual lowland forest rich in bio-diversity, complete with a nature trail and a crystal pond. Located in the Khao Pra-Bang Kram area, the nature trek is a superb place to spot rare animals and plant species including the Pitta Gurney bird which was once considered extinct. The forest is lush with age-old trees stretching up to the sky, unusual forest creatures and limestone foothills that open onto a dazzling emerald pool. There is a park office close by at Ban Bang Teao which offers some information although their primary goal is to ensure that the no-hunting zone is enforced and that no harm comes to this naturally beautiful sanctuary.
Klong Thom Hot Springs
Therapeutic and soothing, the Krabi Hot Springs are 'hot tubs' crafted into smooth rock channelling water from deep rooted thermal springs located in volcanic chambers. The waters average 35-40 degree Celsius and are brimming with natural mineral salts which are claimed to cure all manner of health complaints including rheumatism and sciatica. The sensation is utterly relaxing and the environment is certainly unique, imagine sitting in a bath tub hollowed out from nature's stone and surrounded by rainforest. These jungle baths feed into a cool stream which is perfect for dipping and diving into. Located about 70 kilometres from Krabi town, the hot springs are in the heart of a small jungle preserve and close to the Khao Phra Bang Khram Nature Reserve. Situated in the same reserve as the Emerald Pool and Thung Teao Forest Natural Park, it's worth taking the time to combine all of these wonderful eco-spots in one nature filled day.
Wat Tham Sua (Tiger Cave)
Krabi Tiger Cave offers a genuine spiritual experience in stunning natural surroundings. Tiger Cave Temple or Wat Tham Sua sits 5 km northeast from Krabi Town centre. It is one of Thailand's finest natural wonders, and it's definitely worth a visit. The temple here is a warren of natural limestone caves formed inside at the foot of an impressive cliff. There are beautiful icons in the main temple cave, but the real attraction here is the 'footprint of the Buddha'. To get to this historic site you need to hike 1,237 steps up the limestone tower. Krabi Tiger Cave offers you a challenging climb, especially in the Thai climate. Those who make it to the top are compensated with panoramic 360 degree views. The panorama encompasses the Andaman Sea, dramatic limestone cliff formations, and verdant rainforests. You'll also discover 'the Buddha's footprint' that lies on the terrace. The vistas are particularly stunning at sunrise and sunset. It's also the best time to climb up and avoid the heat.
Krabi Town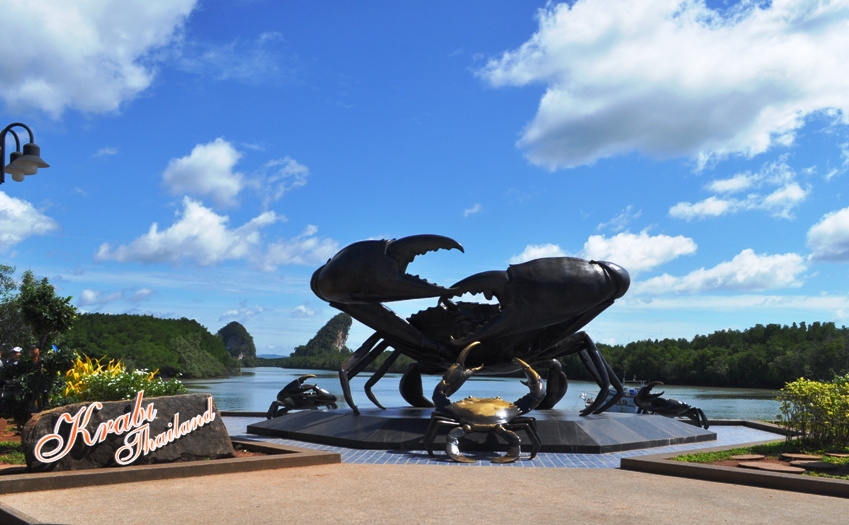 Krabi Town is a market Thai town that was around long before international tourists started to visit the area. It's charming, laid back, and as much as the word is overused, it's very local. Tourism has arrived, but Krabi Town doesn't jump through hoops to bring in foreigners; as the main commercial and transit point for the province, it doesn't need to. Its unique personality is a welcome contrast to the surrounding beach areas. The river is a hub of activity with fishing boats and river taxis ferrying both locals and visitors to spots near and far and the pier to the west of town is the place to catch a ride to the surrounding beaches and islands. Many visitors hurry to the big name destinations – Railay, Ao Nang, Koh Lanta, Koh Phi Phi – getting in and out of town as quickly as possible. But for those interested in a dose of genuine Thai culture and hospitality, sticking around Krabi Town is a rewarding experience.
The Night market
Krabi Town like so many other big owns in Thailand has a night market. This market is open every Friday to Sunday in the evening and is not to be missed. There are over seventy food stalls here as well as lots of local sellers selling souvenirs. Sometimes local school children put on a show as they collect money for their school or another charity. There is one particular stall that is worth a special mention it is the one that sells coconut ice-cream, most markets have a stall selling the same things but this ice-cream is famous throughout the markets for its impeccable taste.